ABOUT US
The West End Preschool is a ministry of the Otter Creek Church (West End campus).
Ages Served: 15 months through Pre-K.
Hours: 7:30a - 5:00p
Location: 3534 West End Ave, Nashville, TN 37205
Our small classes are designed with your child in mind!
Part time and Full time schedules available.
Please call or email to check current availability for enrollment, schedule a tour, or have any questions answered.
615.269.4630
Leslie Sitton: (co-director)
Amy Tate: (co-director)
---
The mission: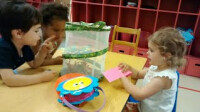 Be

a curious participant in learning
We believe that learning is a lifelong adventure that begins early in life and continues throughout adulthood. We encourage children to have an inquisitive mind and plan our lessons around their interests. We believe in the freedom to wonder, to ask, to explore, to create, and to imagine.

Belong to the community in a respectful and productive way
We believe that children are contributing members of family, community, and the world as a whole.

We work together to teach that diversity is welcome, that care of our environment is essential, and that families are vital and active in our world.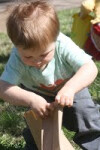 Be

come a well rounded person
We believe that all areas of development are equally important. Our teachers plan lessons and activities that emphasize the areas of intellect, social interactions, physical skill, and emotional well-being.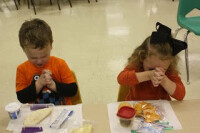 Be

lieve in God and His love
As a ministry of Otter Creek Church (West End campus),

we are committed to teaching children

to rejoice in God's love

and take comfort in His Word.