Resources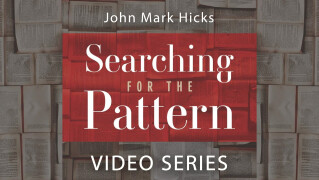 On Biblical Interpretation
:
Searching for the Pattern: My Journey in Interpreting the Bible. Here, John Mark Hicks provides insight into how he moved from a patternistic hermeneutic to a way of reading scripture as the unfolding narrative of God.
Women Serving God: My Journey in Understanding Their Story in the Bible. In this book John Mark Hicks tells the story of his own journey to understand how women have served God throughout the unfolding drama of Scripture and then focuses on the meaning of biblical texts and how they support the full participation of women in the assemblies of God.
The Blue Parakeet, 2nd Edition: Rethinking How You Read the Bible. Herein, Scot McKnight invites us to read the Bible as the ongoing story of God in which God asks us to play a part. The second half of the book then applies this fresh way of reading scripture to the practical issue of women in leadership in local churches.
On Women in Leadership:
Women's Service in the Church: The Biblical Basis, by N.T. Wright. In this conference paper, Tom Wright offers thoughts on relevant texts and invites his readers to challenge the molds into which the world around tries to squeeze us, and to embrace the different way of God's kingdom, in which we discover the fulfillment of God's created plan and order.
A Community without Barriers: Women in the New Testament and the Church Today, by Thomas Robinson. This study was prepared for use by the members of the Manhattan Church of Christ in New York City. The materials were written for class presentation and discussion.
The Making of Biblical Womanhood: How the Subjugation of Women Became Gospel Truth, by Beth Allison Barr. Barr's historical insights provide context for contemporary teachings about women's roles in the church and help move the conversation forward.
S3E16 of No Small Endeavor (formerly Tokens Show): Lee Camp interviews Beth Allison Barr on her book, The Making of Biblical Womanhood on Youtube or Apple Podcast.
Harbor, Pepperdine Bible Lectures Podcast: "Husband of One Wife: Nothing Else Needs to be Said (part 1)", by John Mark Hicks
Harbor, Pepperdine Bible Lectures Podcast: "Husband of One Wife: Nothing Else Needs to be Said (part 2)", by John Mark Hicks