December 07, 2018

|

mission stories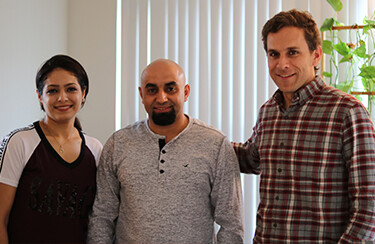 Raed, Xena, and their 3 children are from Iraq. Raed worked as a translator for the US Military from 2005-2016. Raed was involved in interrogations and court appearances, so his face was recognizable to many of the suspects and their families. Many people considered him a traitor—although in fact his work with the Americans was being done in cooperation with the Iraqi government. However, for many years no one in his family knew what he really did for a living; his cover was that he worked in software. Even though Xena and the children did not know the specifics of what Raed did, the danger to their lives was real and limited what they could do. The children had to go directly from home to school and back again. Xena could not go out in public or go shopping by herself. Raed's brother was kidnapped for ransom twice. Raed was passionate about his work—he was saving lives and clearing the streets of terrorists. But he was also living in dread of "the phone call" that something bad had happened to a family member or friend. Finally, Raed received a special immigration visa for his service, and the family moved to the States on August 5, 2016.


World Relief Nashville was there to greet them at the airport. They provided temporary accommodations and connected them with Duane Dixon and his team of volunteers. This team provided clothes, various items, and were there for them all the time. Raed especially appreciated how much the team helped Xena—with her English, with childcare, and with running errands. "The list is long," Raed said. "We are very thankful."

When they first arrived in the US, Xena couldn't speak any English or drive a car. She remembers crying with frustration at being unable to talk. She was so determined to learn that on days when Raed could not drive her, she would ride one of her sons' bikes to the place where she was taking English lessons. She also attended an English Bible study, which she said helped her the most because she asked a lot of questions. "She has motivation," Raed said. "She wants to learn, she wants to accomplish stuff, not just sit and depend on me or you or the team. She wants to get everything done by herself now." With all 3 of her children in school during the day, Xena began volunteering as a substitute special needs teacher in Franklin Special School District. After a year, the school offered to pay her to stay in the same role, and she is able to choose her schedule. This is the first job she's ever held. Raed is now working two jobs—one with Kroger, and another with a Washington, DC-based software company that works with the Iraqi government.


They describe their oldest son, Ali (14) as shy, but adapting well. He enjoys soccer and is a big Madrid fan. Their middle son, M, is in 6th grade and is very active, outgoing, and funny. He plays basketball. R (4), their little girl, was a surprise baby. Raed says she is adorable and "the best mistake in our lives."


Overall, Raed is optimistic about this move. When he was a child, his family moved to Wales for 5 years so that his father could complete a PhD program, and he describes this time as some of the best days of his life. He hopes that moving to America will be the same for his children. He sees living in the States as an opportunity for them to receive a good education and good healthcare. Ali is able to play soccer on a real soccer field, whereas in Iraq he might have to play on pavement, without appropriate shoes—if he had been allowed to play outside at all.

Raed's biggest goal, for both himself and his wife and children, is to have good friends here in America. Although technically World Relief's program ended after 3 months, Duane and other members of the volunteer team are still close with Raed and Xena. Raed said, "We speak about you on a daily basis," and feels that the lasting friendship was the most important thing they've gained.