This is Children's Ministry
This is community. This is serving. This is discipleship. This is investing. This is connecting. This is family. This is making a difference. This is Children's Ministry. VOLUNTEER TODAY!
Exile International/Otter Creek Kids K-5th Phenomenal Paint Party
Otter Creek Gym /$13* *Proceeds benefiting the children in Exile International's programs in Uganda and DR Congo.
REGISTER by Aug 18th! Space is limited!
Read more about EXILE INTERNATIONAL.
Come welcome our new Children's Minister, Jenny!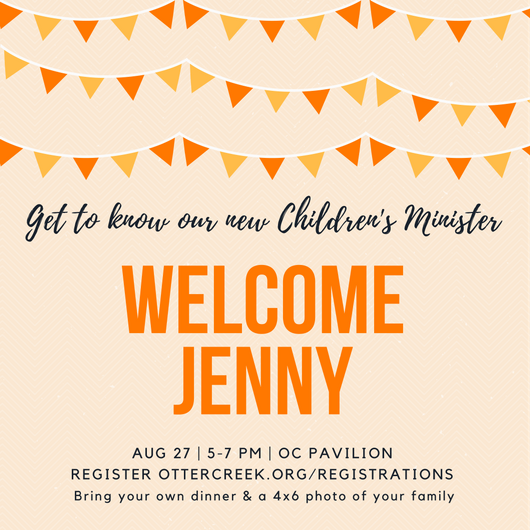 Sunday, Aug 27, 5-7pm. Bring your own dinner to the pavilion and come ready to play on the playground or in a bouncy house! There will be free shaved ice for children 5th grade and under. 
Also, bring a 4x6 photo of your family labeled with your family's names and children's grades. This will be given to Jenny and her family to help begin putting names to faces. If you are unable to print a photo, you can email one to Kara Graves at .
REGISTER HERE (for a headcount)
It's time to register for September's Birthday Sunday! Please let us know which Otter Creek Service your birthday child will be attending! Registration deadline is Thursday, August 31st. REGISTER
Children's Classes
Sunday classroom assignments: HERE
Wednesday Summer Schedule: HERE