Say yes to baby wipes. Say yes to snacks. Say yes to making the Bible come alive. Say yes to singing loud. Say yes to serving in OCKids!
Sign up: YES!
Birthday Sunday:
It's time to register for April's Birthday Sunday! Please let us know which Otter Creek Service your birthday child will be attending! REGISTER
First Look Volunteer Coffee Talk:
Grab a cup of coffee and join us March 18th in room 230 at 10AM to hear all the many ways to serve in the children's ministry. This is a great first introduction to becoming a part of our children's leadership team!


High 5 Upcoming Events:


Midweek Madness: March 21st : REGISTER
gym | 5:30 - 7:00pm

Brushfire: April 15th: REGISTER
$12

OCKids Easter Egg Hunt:
Join us for our Annual Easter Egg Hunt at 10:00 am on March 31 at the Pavilion! All ages welcome! If the weather is bad, it will be moved indoors.

For every child participating, please bring one dozen filled Easter eggs. Please tape the eggs closed. Mark the bag of eggs with the child's age and leave the bag in the containers in the lobby or near the children's check-in stations.

*If your eggs are filled with nut allergy safe candy, please also mark your eggs with a star sticker.
All-Together Worship:
All children older than nursery worship will accompany their parents to the sanctuary both services. Age appropriate activity sheets will be available at the Welcome Center if you would like one for your child.
April 1 – EASTER
April 29 – 5th Sunday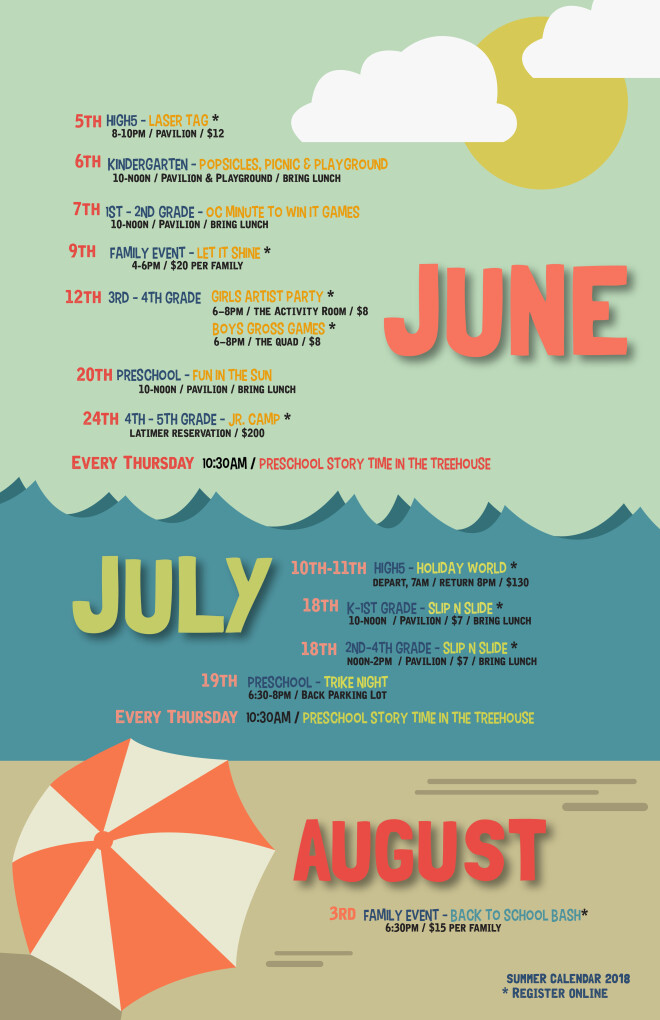 Children's Classes:
Sunday and Wednesday classroom assignments: HERE