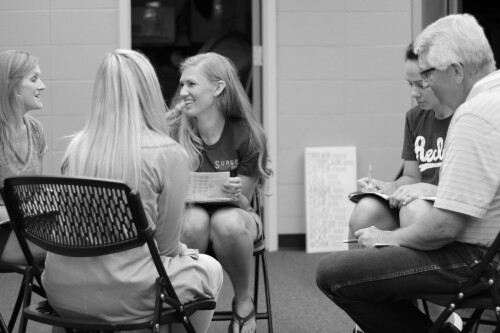 What is Otter Creek's Freedom Prayer Ministry:
The Freedom Prayer Ministry at Otter Creek is a ministry that offers focused prayer time with trained prayer team members. The main goal is to allow the Holy Spirit to identify and address things hindering a deeper personal relationship with God. This ministry uses a biblical framework to give the Holy Spirit room to address inner hurts and wounds, identify and break strongholds, and bring healing and freedom, all with the purpose to know God better (Eph. 1:17). While God can meet us anytime in any way, he's made a promise that when two or more of us gather in his name, that he blesses us with his presence. When we wait on him together, we can confidently expect him to reveal himself and, as our hearts are tender and open to him, we can trust he will guide us into truth (John 16:13).
---
Who is this ministry for?
This ministry is for you! People come for prayer for a wide variety of reasons: help with past hurts or on-going problems, wanting freedom from habitual sin, or simply a desire for "more of God"-- everyone can benefit from praying with others. No matter you association with Otter Creek (member or friend).
Therefore, confess your sins to one another and pray for one another, that you may be healed. The prayer of a righteous person has great power as it is working. James 5:15-17
---
What does the prayer time look like?
You will meet with 2-3 prayer team members, usually of the same gender. One team member will primarily lead the prayer time with help from the other two members. Prayer will center on trusting the Holy Spirit to lead through applicable areas such as forgiveness, repentance, identifying and removing lies and ungodly beliefs, confession of sin, and receiving God's truth and His heart towards you. Both you and the team will be active participants in the prayer time as we seek the Lord's heart together.
---
Is this confidential?
While Freedom Prayer is not structured as a therapy session with official confidentiality agreements, this ministry stresses the importance of confidentiality to all participants and abides while operating within mandatory reporting laws.
---
How do I schedule a prayer time?
Fill out this form to continue the conversation.